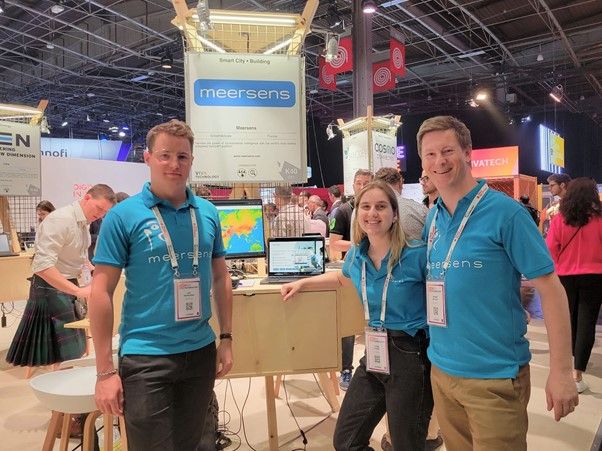 VivaTech is not just a place to show off the newest innovations and listen to top speakers from the tech ecosystem, it is also a place where people meet, partnerships are made and ideas are born. Since the start of VivaTech, we have been a facilitator for these encounters, yet many stories of what VivaTech has brought to startups, investors, exhibitors and partners alike go unnoticed. Luckily, in the search for some inspiring stories, we found a few pearls this year at VivaTech!
Company: Meersens
Sector: Information Technology, Health
HQ: Lyon, France
Year founded: 2017
Who we interviewed: Morane Rey-Huet, co-founder and CEO
Startup story
12.6 million deaths each year are attributable to unhealthy environments. Yet many of the factors that cause these deaths are not visible; we can't see that we are being harmed by our environments, whether it is due to unhealthy drinking water, polluted air, or other invisible factors. At Meersens, a startup from France, their passion for public health drove them to create solutions to make the invisible aspects of our immediate environment visible to as many people as possible.
With their integrated SaaS/API platform, businesses can analyze environmental intelligence to anticipate environmental risks and make confident decisions for all stakeholders involved.
After getting the startup off the ground running in 2017, Meersens ventured into the halls of VivaTech for the first time in 2019 and then again in 2021. They came with the hopes of making some connections with other entrepreneurs, pitching their idea, and maybe meeting some inspiring people. But what they left with was much more.
The investor
Among several investors who stopped by the environmental health startup at VivaTech was Jacques Attali, a French venture capitalist, economic and social theorist, writer, and political adviser. Attali founded the Positive Planet NGO, which supports the creation of positive businesses. Since its creation, they have supported more than 11 million micro-entrepreneurs.
Inspired by Meersens' solution and the founders' enthusiasm for the urgent mission of contributing to a healthier world, Attali decided to invest in the French startup after VivaTech. But the story doesn't end there! Attali also became one of the four board members for Meersens. "These four advisors are really helping us take off like a rocket," said CEO Rey-Huet. "And it was thanks to VivaTech that we were able to meet Attali."
The partnership
With the help of the visibility from their stands at VivaTech, Meersens also got an international feature on CNN. This exposure along with the many people Meersens was able to talk to during the event skyrocketed their visibility. Which led to several discussions with interested partners and key European corporations. Among them was a major player in the insurance field, one of the largest global insurance and asset management providers. After VivaTech, the discussion with this major player continued and one week before the VivaTech 2022 edition, Meersens signed a key contract with them.
"Getting that contract was the result of our growing position and recognition in the field of prevention. And Vivatech was really crucial to it," explained Rey-Huet. Another win for the environmental startup!
And the story continues…
Coming back for a third round with big intentions, Meersens hit the ground running at VivaTech 2022. This year was an opportunity to further reinforce their collaboration with Huawei who invited them to exhibit on their stand. Meersens is also about to start their Series A funding, and are hoping to reach 10 million euros in this round.
The funds will be used for three things. "One is to finalize our roadmap for innovations to deliver the full promise of making the link between environment and health. And helping people to reduce those risks. It is too bad to lose 20 years of good health. We have to do something there. The second one is mostly for recruitment. We are growing at 300% rate right now. So we really need to find new salespeople to ensure that we can recruit different people around the world. And the third one is to make our footprint in the US market."
But VivaTech wasn't all business for this startup. It was also a great team building moment. The three team members present this year (between pitching to passers-by at their stand!) were able to squeeze out to see a few sessions together.
One piece of advice the startup's CEO would give to first timers at VivaTech? "Take any opportunity for an interview, a photo, a meeting. You never know what that will bring you in the end. And also if you are coming for the first time, apply for challenges. Having the support of a partner at a big event like this is so helpful and increases your exposure."
Overall, Rey-Huet says that VivaTech really is the place for startups. "We're here, because this is the place to be. In the world, it is the best place to be right now, no doubt. We love VivaTech. We are so happy to see everybody; to see our partners, our customers, other startups. This energy here at VivaTech makes you feel like anyone can do the impossible."